Kids Bedroom, Grandkids bedroom…   Here are some rear opportunities to really wow the kids.  I even found some very nice, simple items that your wife or husband will appreciate.
This over/under, play/storage project will keep kids and moms happy. Youngsters will love the smooth flat tabletop for building a railroad, assembling a block structure, or putting together a puzzle. Moms will appreciate the tray-like top that keeps small parts corralled and the roll-out boxes for stowing toys at cleanup time. Price: USD 7.95
Longfellow Cradle (PDF) Woodworking Plan
There is no guaranteed method for comforting a cranky infant, but a cozy rocking cradle has been known to do the trick. Price:    USD 9.99
Woodsmith Convertible Table Plan
Pop the top of this elegant coffee table and you'll find yourself with a table that's at a comfortable height for work, dining or play.
Price (w/lift mehanism):  USD 209.89



Get ride of clutter in the hall.  Combines seating and stoage under the seat.  This is my kind of beauty & simplicity.
Price:  USD 11.99
The Library System, New Yankee Workshop DVD
Who couldn't use more storage for books and display items? Recognizing the need for a good bookcase system that can be added to as needed, Norm designs a modular system that can be adjusted to go around existing windows and doors.
Price: USD 29.99
Wall Paneling, New Yankee Workshop DVD
See how easy it can be to create rich, three-dimensional paneled walls!  Man… Imagine your own study, masculine greens & reds, kicked back in front of your fireplace…  Hmmm…  To begin, Norm shows some wonderful examples of wall paneling techniques in a home restored several years ago by This Old House. At the simplest, he shows how molding can be applied to a plain wall to create a paneled effect. Then he brings us into to the Workshop to show classic bead board paneling, raised panel systems and, finally, rich mahogany paneling using veneered plywood and solid custom moldings. Includes measured shop drawings.
Price:  USD 29.99
Modify to make a toy chest, blanket chest or cedar chest with classic cabriole style legs. (cabriole? Means fancy, I think…)
Price: USD 17.95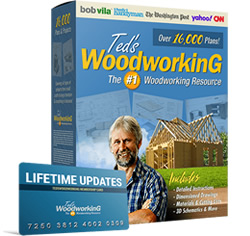 Click here for 100's of Ted's Furniture Plans
Making anything from wood requires a plan, be that of your own design, or professionally done.  I like Ted's product, but there are other sites similar to Ted's, like Woodworking4home (which you can check out) as well as the affiliates I list on this site. They will provide you the needed materials lists, tool & instructions to be successful.  And be sure to pay attention to my able assistant, Ms Dove Tail, as she clearly explains necessary shop tools.
For the woodworker that has everything.  Give the gift of choice with a Rockler Gift Card.  Let your favorite woodworker choose from thousands of products from Rockler. Available in any denomination over USD 10.00.
SMALL, COOL (challenging) INDOOR PROJECTS
A popular wood project packed with action. This is one of the leaders in woodworking plans sales in the country. A conversation piece in wood and kids love these things. Marbles release every 2 seconds…
Price: USD 17.95
Table top model, great optics. A kaleidoscope styling inspired by furnishings of the Romantic Era in the late 1800s. The optics are easy to build. Everyone should have at least one of these things.  Ya know…
Price: USD 17.95
Pedestal Kaleidoscope Woodworking Plan
In case there's no room on your desk, a floor model. 12 inch long scope, versatile controls. Our second wood kaleidoscope is fit for a Victorian parlor.
Price:  USD 17.95
Ratcheting Candlestand Woodworking Plan
Both decorative and functional, this antique design retains its warm glow and pleasant appearance.  Can you see it in your new study?  Back when candles were relied on for nighttime illumination, a stand like this one proved indispensable… illumination?  Well, I really like these Colonial items.  They work as just as well in a restored 1700's house as in a contemporary loft in Manhattan.
Price:  USD 8.95
Lathe projects do not have to be complicated, so learn to turn pens.  This is a true story… Our friends restored an early 19th century home and we secretly absconded an original piece of 200-year-old floorboard. We had 2 pens made as a Christmas present for them and they were absolutely thrilled. Now I can do it myself…
Price:  USD 8.95
How about a couple more toys for the kids…
Kitchen Appliance Wooden Cook Stove Woodworking Plan
Brighten a child's day by gifting them this heirloom-quality piece of make believe kitchen furniture. There are so many workable details that imaginations are sure to grow. Add your own knobs and handles, paint it flat stove pipe black… just no putting real fire in this thing.
Rubber Band Cars Woodworking Plan
Special wood wheels are grooved to hold rubber traction bands. Plans for a group of four street rods. Each project requires one 19-1089 Hardware Package. All plans drawn FULL SIZE.
Price: USD 11.99
Train Toy Box Woodworking Plan
A spacious toy box with a truly authentic look. Paint the name of your child's personal railroad on the side. The numbers on the cab are your child's birth date. A storage drawer slides out from between the wheels.
Price:  USD 24.95
Rubber Band Boats Woodworking Plan
Simply wind up the paddle and away they go! Order rubber bands and axle pegs separately. (I used to make my own rubber band cars, boats & airplanes as a kid.)
Price:  USD 12.99
GOTTA HAVE BEDS
This solidly built bed will be in your family for generations! Classic design features tapered leg bottoms and matching arches in the headboard and footboard.
Bed measures 71″ wide x 88-1/2″ deep x 45″ high.
Plan includes 14-page instruction booklet with material list.
Bed consists of headboard, footboard, two side rails, stretcher and four mattress slats.
Price:  USD 14.95
3-in-1 Transitional Crib/Bed Plan, Crib Hardware Sold Separately
If it's heirloom quality, it should see more than a few years of use. Our convertible design does just that. With three beds in one: a crib, a youth bed, and a full-sized bed, it's built to follow your child from infancy, through toddlerhood and into adulthood. And with classic design and sturdy joinery, it will easily stand the test of time. The Transitional Hardware Kit is available separately, and includes all necessary hardware for the conversions. Crib has fixed sides. Crib Hardware Kit (available in 4 different finishes) sold separately.
Price:  USD 14.99
Futon Sofa Bed with table Woodworking Plan Set
Providing a place for guests to sleep usually means devoting an entire room, but not any more. This Futon/Sofa is easy and inexpensive to make. Standard board sizes are specified and the folding mechanism uses common hinges and roller wheels. Parts fasten mainly with screws which are concealed with solid wood plugs. The table is also easy to make. Full-size, traceable patterns are given for all the parts so you can transfer outlines directly to the material. Largest of the two projects is the sofa at 91 inches wide x 36 inches deep. The bed utilizes a standard, queen-size futon mattress (60 x 80 inches). The table is 18 inches high x 36 inches wide x 18 inches deep.
Price:  USD 10.99
Gotta have a Bunk Bed…  Right?
Adapt-a-bed Plan w/Hardware Kit
This flexible system creates three different configurations using the bed parts from one plan.  Very cool…
Price: USD 14.99
Price w/Hardware Kit:  USD 58.49
LOTS MORE COMING – Like sports car beds…

Don't forget to check out affiliate marketing yourself…  Visit George through his link below.